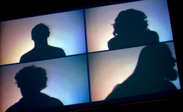 Seven performers will be on stage, voicing quite a wide range of compounds of all kind, national, social, professional, gender...

Firstly, we see people connecting via internet on a « video-chat room ». Our point here is to depict an European digital realm that is supposed to bring people together by curbing distance and differences. We all know that. But what is really happening now with all those platforms and community networks (i.e Facebook...). How do they really function and above all do not they ultimately create to the users new « profiles » that enable them to pursue another life in another space, being another one?
Dream, as a national goal.
Dream, as a vital function.
Dream, as a necessary lie.
Dream, as a strong yearning for sex.

Playing with what we can actually see on stage combined with what we know of them through their performance on the « chat », one will have at hand, at least two identities, and maybe even more.
As the chat cam only pictures a tiny part of one's reality, plenty is left for fantasy, abuse, humor, treason, promesses, confessions, story telling, belief, experiments among others.
A complex network of intimate and public datas will be thrown into that game of « making sure one has the life he/she deserves! ».

At the end of the day, some basic questions remain:
What makes me European, more that algerian, or egyptian?
Untill which extend my national identity is it linked to the past of my compatriots, more than to my personnal path through life, given a specific space and heritage (cultural and genetic).

With Youdream, SUPERAMAS deliberately digs into our real and fictionnal existence, playing out the necessary connection of both to create the most upper form of tolerance: complexity.
Directed and produced by SUPERAMAS

With: Roch Baumert, Peter Connelly, Karen Lambaek, Agata Maszkiewicz, Diederik Peeters, Martin Schwab and Superamas.
3D animation: Bertrand Baudry
Music "Dream On" : Henri Emmanuel Doublier, lyrics : Aaron Schuster; vocals : Faris Endris Rahoma.
Costume for Maria Waleska : Sabine Desbonnets
Workshop : Prototoutyp

Co-produced/commissioned by : Tanzquartier Wien, Szene Salzburg, Buda kunstencentrum, kunstencentrum Vooruit, Kaaitheater, Workspace Brussels, En-knap/Spanish fighters (supported by the Ministry of Slovenia and the City Council of Ljubljana).

With the support of : City of Vienna, Austria \ bm:ukk, Federal Chancellory of the Arts, Austria \ österreichisches kulturforum, Belgium \ Direction Régionale des Affaires Culturelles d'Ile-de-France, Ministère de la Culture et de la Communication, France \ Le DICRéAM, Ministère de la Culture et de la Communication, France \ The Flemich Community, Belgium \ TRANSDIGITAL & FEDER.