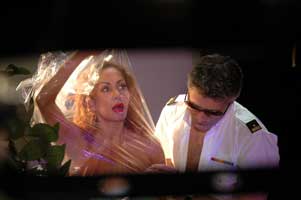 Because the world has changed. Because we got older. Because girls got younger.
Facing new challenges in various fields such as economics, politics, technology, commercial business, sex, dance and theatre, SUPERAMAS turns itself into SuperamaX.
SuperamaX is a small enterprise generating substantial profits in various businesses. It is an outstanding start-up due to its courageous decisions in R&D.
SuperamaX cares about animal rights and well-being, but SuperamaX mostly cares for people. SuperamaX strives to merge with Cindy Gallop's website "makelovenotporn.com" because "good sex life means good life". SuperamaX's creative workers cooperate closely to produce high-end products at affordable prices for the public at large. They belong to the "young entrepreneurs", the inventors of "alternative" capitalism based on manufacturing individualised products and rendering modular and flexible services.
SuperamaX is a sweet-sour comedy.

Parce que le monde a changé. Parce que nous avons vieilli. Parce que les femmes rajeunissent.
Confronté à de nouveaux défis, dans les champs de l'économie, de la politique, des technologies, des affaires, du sexe, de la danse et du théâtre, SUPERAMAS se transforme en SuperamaX.
SuperamaX est une petite entreprise qui réalise des profits substantiels. C'est une start-up qui s'est singularisée par ses choix courageux en matière de Recherche et Développement.
SuperamaX se soucie des droits des animaux et de leur bien être, mais SuperamaX se soucie en premier lieu des gens. SuperamaX cherche à fusionner avec le site internet de Cindy Gallop «makelovenotporn.com», car «une vie sexuelle épanouie est une vie épanouie». Chez SuperamaX les créatifs travaillent main dans la main, pour élaborer des produits haut de gamme à des prix abordables pour tous. Ils font partie de ces «jeunes entrepreneurs», qui inventent un capitalisme alternatif, basé sur une production à l'unité et un service client modulaire et adaptable.
SuperamaX est aussi une comédie.

Die Welt hat sich geändert, wir sind älter und die Frauen sind jünger geworden.
Angesichts neuer Herausforderungen in den Bereichen Wirtschaft, Politik, Technologie, Business, Sex, Tanz und Theater wird aus SUPERAMAS SuperamaX.
SuperamaX ist ein Kleinunternehmen mit guten Profiten aus verschiedenen Geschäftsfeldern. Es ist ein Vorzeige Start-Up wegen seiner mutigen Entscheidungen in F&E.
SuperamaX kümmert sich um Tiere, deren Rechte und deren Wohlergehen, aber am meisten kümmert sich SuperamaX um Menschen. SuperamaX ist bestrebt mit Cindy Gallops Website "makelovenotporn.com" zu verschmelzen, weil "guter Sex heißt ein gutes Leben". SuperamaX Kreativarbeiter arbeiten eng zusammen, um high-end Produkte zu akzeptablen Preisen für eine breite Öffentlichkeit herzustellen. Sie sind Teil des Jungunternehmertums, und der Erfinder des "alternativen" Kapitalismus, der auf der Herstellung individualisierter Produkte und dem Angebot modularer und flexibler Dienstleistungen basiert.
SuperamaX ist eine bittersüße Komödie.

Concept, performance, set, sound, light design by SUPERAMAS
Costumes: Sofie Durnez
Stage Manager: Martin Schwab
Voices: Anna Mendelssohn, Jennifer Lacey, Laëtitia Lefebvre, Ariane Loze.

Research program produced by apap - advancing performing arts project - with the support of the Culture Program of the European Union.

Produced by: Superamas
Co-producers:
Maison de la Culture Amiens France, Tanzquartier Vienna Austria, Vooruit Ghent Belgium, Kaaitheater Brussels Belgium, BIT-Teatergarasjen Bergen Norway, Kanuti Gildi Saal Tallinn Estonia, House on Fire with the support of the Culture Program of the European Union.
Supported by:
City of Vienna Austria, Direction Régionale des Affaires Culturelles de Picardie France, Ministère de la Culture et de la Communication France, Région Picardie France, the Flemish Government Belgium, l'Institut français dans le cadre du dispositif "Théâtre export" France, ONDA France.
In collaboration with:
Buda Art Center Belgium, Szene Salzburg Austria, Tanzfabrik Berlin Germany, actOral and La Criée -Théâtre National de Marseille- France.

Thanks to the below mentioned for their support, ideas and wishes:
Susi Wisiak, Helena Dietrich, Valerie Oberleitner, Yalda Ettehadi, Alix Eynaudi, Agnieszka Ryszkiewicz, Agata Maszkiewicz, Bahar Temiz, Magda Chowaniec, Alix Salingue, Lucie Eidenbenz, Karen Lambaek Christensen, David Alexandre Guéniot, Dianne Weller, Ariane Loze, Anna Mendelssohn.
For their active participation:
Yalda Ettehadi ,Emmeline Barc, Maxime Peaumier, Luc Moreau.
And for their unwitting role in the play:
HSBC, ADIDAS, HOT DOLL, RED, Shilpa Shetty, Cindy Gallop.

General contact: caro@superamas.com
Touring in France / Tournées en France:
Maison de la Culture d'Amiens, Gilbert Fillinger +33 3 22 97 79 79 - fillinger@wanadoo.fr
This work programme has been funded with support from the European Commission.
This publication (communication) reflects the views only of the author, and the Commission cannot be held responsible for any use which may be made of the information contained therein.