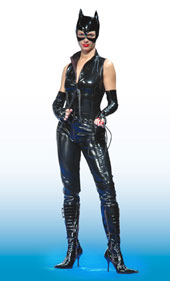 In this film, Superamas plays with male fantasies, luxury cars, fetishist meetings. After two quick drinks, Cat Woman jumps onto the man and starts riding him. Suddenly her fingers can feel some tension in his neck!
The sexual intercourse we all expect turns into an Alexander-technique session.
Yet one can see that through this quest for physical happiness this short film is about an intimate and essential yearning.
Production : SUPERAMAS , Szene Salzburg/Austria, BIEN ZENKER HAEUSER/MUSTERHAUSPARK-EUGENDORF/Austria, AUDI-SALZBURG/Austria
Technical description: video projection / 6min, loop, colour, PAL, sound, one screen or TV monitor.