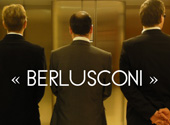 Strasbourg, France / Kehl, Germany
Saturday 4 April 2009 - 09:15

NATO Summit meeting of Heads of State and Government
On a red carpet, Angela Merkel welcomes international leaders. Silvio Berlusconi steps out of his limousine, he is on the phone... and keeps talking over the phone. In front of journalists and TV cameras from around the world, Angela Merkel is waiting for him for ten minutes. She finally gives up and joins the meeting.

With humour SUPERAMAS re-enacts this over mediatized event where Berlusconi becomes the figurehead of a new barbaric smugness.

Directed by
SUPERAMAS

Assitant director
Faris Endris Rahoma

Script
SUPERAMAS
inspired by reality

With
Roch Baumert, Margaritha Schmidinger, Winkler Ingeborg, Karen Lambaek, Agata Maszkiewicz, Valerie Oberleithner, Didi Scher, Diederik Peeters, Peter Connely, Martin Schwab, Esther Linley, Elisabeth Langwieser, Faris Endris Rahoma, Jamal hassan Mataan, Steve Fabillar, Philipp Mayer, Karim Ismael Rahoma, Khaled Sharaf El Din, David Tynnauer, Clemens Drössler, Michael Zellinger, Alix Eynaudi, Magda Loitzenbauer, Bernhard Seyringer & SUPERAMAS

Cameramen
SUPERAMAS, Mario Minichmayr, Michael Strohmann

Director of photography
Mario Minichmayr

Costume designer
Sabine Desbonnets

Set design
SUPERAMAS

Sound recording
SUPERAMAS

Drivers
Mohammed Remah, Mohammed Tamer, Ergün Abdülkadir

Grip Boys
Klaus Rink, Michael Minichmayr

Sound design & music
SUPERAMAS
with the music of Ludwig Van Beethoven, Symphony N°9 in d, Op. 125. Directed by Wilhelm Furtwängler.
Lucerne Festival, 22 August 1954.

Production
SUPERAMAS, Austria

Assistant Productor
Faris Endris Rahoma

With the support of
TANZQUARTIER WIEN