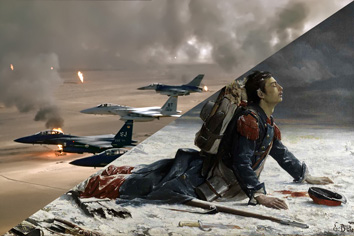 Vive l'armée
> Performance 2016


Ask for the video


France is at war !
« Yes, France is at war with terrorism ». This is what Manuel Valls, Prime Minister of France said before the French National Assembly on 13 January 2015, a few days after the terrorist attacks in Paris.
Vive l'Armée ! But what army? The army of drones, ballistic missiles and special forces? Or the army of World War I, the army of trench warfare and mustard gas? After all, when France adores its army today, the country equally celebrates the army of yesteryear.
The army which from 1914 to 1918, saw 1.4 million casualties in its ranks and three times that number wounded.
What is the connection one can make between the soldiers of yesteryear and the soldiers of today? Between the conscripts drafted into the military and the professionals who join voluntarily?
The connection is the reason why they are deployed: to defend the country and the national interests of France. Although the army has undergone a radical change – from the incarnation of a nation in arms a century ago to a specialist force, a professional and permanent army, its raison d'être has remained the same: it is an instrument of national power epitomised.
The theatre of operation
Like other productions of the collectiveSuperamas, Vive l'Armée ! brings together a variety of art forms. Theatre, choreography, performance, music and cinema are woven into a epic and spectacular tapestry. A film on the silver screen; war on stage.
The mise-en-scène banks on the dialogue between the two media. Screen and stage respond to each other, repeat each other or contradict each other. The images on film provide a context for reality on stage. The bodies on stage flesh out the discourse on film. Their common language is sound which, from the actors' voices to the music, moves from one to the other, comes from one to animate the other.
La France en guerre !
« Oui, la France est en guerre contre le terrorisme ». Ainsi s'exprimait Manuel Valls, le premier ministre français, le 13 janvier 2015, devant l'Assemblée Nationale, quelques jours après les attentats de Paris. Vive l'Armée ! Mais quelle armée ?
Celle des drones, des missiles balistiques et des forces spéciales ? Ou celle des poilus, des tranchées et du gaz moutarde ? Car si la France vénère son armée d'aujourd'hui, elle célèbre également celle d'hier. Celle qui de 1914 à 1918, compta 1,4 million de morts et trois fois plus de blessés dans ses rangs.
Quel lien peut-on tisser dès lors entre le soldat d'hier et celui d'aujourd'hui ? Entre le conscrit, appelé sous les drapeaux, et le professionnel, engagé volontaire ? Celui des raisons de leur utilisation sur le terrain : la défense du pays et des intérêts nationaux de la France. Car si l'armée a radicalement changé -d'incarnation de la nation en arme, il y a un siècle, elle est devenue une force spécialisée, professionnelle et permanente- la justification de son existence reste la même : elle est l'instruent de la puissance nationale par excellence.
Le théâtre des opérations
Vive l'Armée !, à l'image des autres productions du collectif Superamas, est à la croisée des formes artistiques. Théâtre, chorégraphie, performance, musique et cinéma sont convoqués dans cette fresque épique et spectaculaire. Sur grand écran, le film ; au plateau, la guerre.
L'enjeu de la mise en scène repose sur le dialogue des deux médias. L'écran et le plateau se répondent, se répètent ou se contredisent. L'image filmée contextualise la réalité scénique. La présence des corps au plateau donne chair au discours du film. Leur langage commun est le son, qui des voix des acteurs à la musique, passe de l'un à l'autre, vient de l'un pour animer l'autre.
Frankreich im Krieg !
«Ja, Frankreich befindet sich im Krieg gegen den Terror». Das sagte der französische Premierminister Manuel Valls am 13. Jänner 2015, wenige Tage nach den Attentaten von Paris, vor der Nationalversammlung.
Vive l'Armée! Aber welche Armee? Die der Drohnen, der Marschflugkörper und Sondereinheiten? Oder jene des Ersten Weltkriegs, mit Grabenkrieg und Senfgas? Denn wenn Frankreich seine Armee von Heute verehrt, so feiert sie auch jene von Gestern.
Jene, die von 1914 bis 1918 1,4 Millionen Gefallene und drei Mal so viele Verwundete aus ihren Reihen hatte.
Welche Verbindung kann man zwischen dem Soldaten von damals und heute herstellen? Zwischen dem, der zur Armee eingezogen, zu den Fahnen gerufen wurde, und dem Berufssoldaten, der heute freiwillig zur Armee geht?
Die Verbindung besteht in dem Grund, weshalb sie eingesetzt werden: zur Verteidigung des Landes und der nationalen Interessen Frankreichs. Denn wenn die Arme sich radikal verändert hat – von der der fleischgewordenen Nation unter Waffen, die sie noch vor hundert Jahren war, zum spezialisierten stehenden Berufsheer – die Rechtfertigung bleibt gleich: sie ist das Instrument der nationalen Macht par excellence.
Einsatzgebiet Theater
Wie andere Produktionen des Kollektivs Superamas verbindet auch Vive l'Armée! eine Vielzahl von künstlerischen Ausdrucksformen miteinander. Theater, Choreographie, Performance, Musik und Film werden in einer epischen und spektakulären Tapisserie verwoben. Auf der Leinwand Filme; auf der Bühne Krieg.
Die Inszenierung stützt sich auf den Dialog zwischen den beiden Medien. Leinwand und Bühne reagieren aufeinander, wiederholen einander oder widersprechen einander. Die filmischen Bilder liefern einen Kontext für die Realität auf der Bühne. Die Körper auf der Bühne erfüllen dem filmischen Diskurs mit Leben. Ihre gemeinsame Sprache ist der Ton, der – von den Stimmen der Schauspieler*innen bis zur Musik – hin- und herwandert, aus dem einen kommt, um das andere zu beleben.
Frankrijk is in oorlog!
"Ja, Frankrijk is in oorlog met het terrorisme. ". Dat zei Manuel Valls, premier van Frankrijk, in het Franse parlement op 13 januari 2015, een paar dagen na de terreuraanslagen in Parijs.
Ja, natuurlijk, "Vive l'Armée"! Maar wat voor leger? Het leger van drones, ballistische raketten en Special Forces van vandaag? Of het leger van de Eerste Wereldoorlog? Het leger van de loopgraven en mosterdgas.
Het leger dat na vier jaar oorlog 1,4 miljoen doden en drie keer zoveel gewonden telde.
s er een gelijkenis tussen de soldaten van weleer en die van vandaag? Tussen de dienstplichtigen in het leger toen en de professionals van nu?
De reden waarom ze worden ingezet is dezelfde: voor de verdediging van de natie en de nationale belangen van Frankrijk . Hoewel het leger een radicale verandering heeft ondergaan - van de incarnatie van een hele natie die naar de wapens greep een eeuw geleden naar een gespecialiseerd, professioneel en permanent leger - haar bestaansreden is dezelfde gebleven: het is een instrument van nationale macht.
Theater dat buiten de lijnen kleurt
Net als andere producties van het collectief Superamas, brengt "Vive l'Armée!" een verscheidenheid aan kunstvormen samen. Theater, dans, performance, muziek en film zijn verweven in een episch en spectaculair tapijt: een film op het witte doek, oorlog op het podium.
De regie zoekt bij "Vive l'Armée!" de dialoog tussen de twee voornaamste media. Scherm en podium reageren op elkaar, herhalen of spreken mekaar tegen. De filmbeelden leveren context bij de realiteit op het podium. De spelers op het podium belichamen het discours op het scherm. Hun gemeenschappelijke taal is geluid. Van de stemmen van de acteurs tot de muziek, geluid bepaalt hoe ze zich tegenover mekaar verhouden.
Concept, performance, set, sound, light design by Superamas.
Performers: Teresa Acevedo, Agata Maszkiewicz, Agnieszka Ryszkiewicz, Superamas.
Costumes: Sofie Durnez.
Voices: Davis Freeman, Dianne Weller, Tess Bryan, Stormy Leugers, Superamas.
Music: «A Piece of Sky» Music © Ginger Dellenbaugh All Rights Reserved a.o.
Film "We are here" by Superamas: Cameras: Mickaël Trident, Mickaël Troivaux, Geoffroy Duval /Sound: Superamas /Choreography: Agnieszka Ryszkiewic, Agata Maszkiewicz, Superamas / Costumes: Sofie Durnez / Starring: Jacques Pauwels, students from lycées M. Michelis & R. de Luzarches, Amiens & amateurs from l'atelier théâtre du service jeunesse de la ville d'Amiens, Superamas, Agnieszka Ryszkiewicz, Geoffroy Duval, Sofie Durnez.

Produced by: Superamas
Co-producers: Maison de la Culture Amiens France, Tanzquartier Vienna Austria, Kaaitheater Brussels Belgium, BIT-Teatergarasjen Bergen Norway, House on Fire with the support of the Culture Program of the European Union.
Supported by: City of Vienna Austria, Federal Chancellory for the Arts Austria, Direction Régionale des Affaires Culturelles Hauts-de-France Ministère de la Culture et de la Communication France, Région Hauts-de-France, Mission Centenaire 2016 et Amiens Métropole France.
In collaboration with: Buda Art Center Belgium, Szene Salzburg Austria, ARC artist residency Romainmôtier Switzerland, Abbaye Royale de Saint Riquier Centre Culturel de Rencontre France, Centre culturel Jacques Tati Amiens, France, Programme "Parcours découverte" Région Hauts-de-France.

Thanks to the below mentioned for their support:
Stage work: Luc Moreau Prototoutyp, Luc Moreau, Julia Walleczek-Fritz, Detlef Polay, Meinhard Rauchensteiner, Chad Wiens. Thanks to brut and Tanzquartier Vienna for hosting stations open to public towards this work.
Film work: Jacques Pauwels, the teachers: Catherine Peuziat, Stéphanie Legendre, Valérie Roger and Nathalie Casquinha as well as Hocine Tighersine and Céline Bergeron, Bruno De Saedeleer et l'association "Sauvegarde du Patrimoine", Lassigny France.

Research program produced by apap - advancing performing arts project - with the support of the Culture Program of the European Union.
General contact: caro@superamas.com

This work programme has been funded with support from the European Commission.
This publication (communication) reflects the views only of the author, and the Commission cannot be held responsible for any use which may be made of the information contained therein.